When:
2017-05-06T00:00:00-07:00
2017-05-07T00:00:00-07:00
Where:
Rancho Santa Ana Botanic Garden
1500 N College Ave
Claremont, CA 91711
USA

Cost:
free with admission
Contact:
Judy Hayami
909-625-8767, ext. 206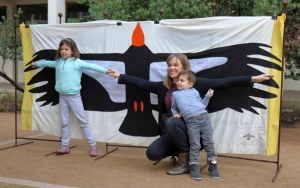 Rancho Santa Ana Botanic Garden, a 86-acre California native plant garden in Claremont, joins Bird LA Day with a bird walk at 8:00 a.m. followed by displays and information for families from 8:30 a.m. to 12 Noon. Find out what makes a bird a bird and how bird beaks and feet make them successful survivors in their habitats. Measure your "wingspan" against a life-size condor banner. Visit the Wild Birds, Unlimited booth and learn how to attract birds to your backyard. Enjoy the day among wildflowers and beautiful oaks. The Bird LA Day walk and exhibit booths are included with Garden admission.