With so many events taking place throughout Los Angeles County, there's something for everyone!
May
4
Sat
Bird Walks for Beginners – Loaner binoculars provided

@ Eaton Canyon Nature Center
May 4 @ 8:00 am – 11:30 am
Morning Bird Walk At the Sepulveda Basin Wildlife Area

@ Sepulveda Basin Wildlife Reserve
May 4 @ 8:00 am – 11:00 am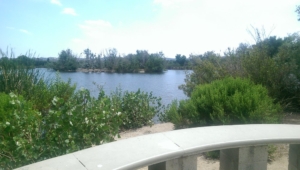 A bird and nature walk in the Sepulveda Basin Wildlife Reserve, led by Kris Ohlenkamp, San Fernando Valley Audubon's resident expert on everything SBWA. Local and migratory birds abound; a variety of ducks and large wading birds are a treat for children and the whole family. Bring binoculars if you can.
Morning Bird Walk with Alex Coffey

@ Theodore Payne Foundation
May 4 @ 8:00 am – 10:00 am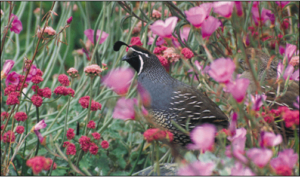 Join expert local birder Alex Coffey for a morning bird walk on Theodore Payne grounds in La Tuna Canyon in the Verdugo Mountains, a spot where more than 50 different species of birds have been sighted. Bring your hat, water and binoculars. Closed-toe shoes and long pants are recommended. No experience necessary; adults and children are both welcome.
Ballona Wetlands Saltwater Marsh

@ Ballona Wetlands
May 4 @ 9:00 am – 12:00 pm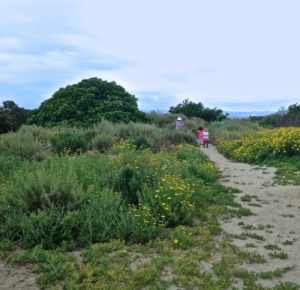 Hike the trails, borrow our binoculars and tap all of your senses as you explore
the wetlands. Los Angeles Audubon docents are on hand to lead tours or grab a map and explore the education stations at your leisure.
• Ecology – learn about the tidal marsh eco-system & wildlife that thrives here
• Microscope – view aquatic invertebrates and algae samples from the Ballona Creek
• Bird Station – observe shorebirds through spotting scopes and view the tidal channel
Directions: Take Culver Blvd west to the 300 block of Culver Blvd. in Playa del Rey. Enter through the Ballona Wetlands gate located in the northeast corner of the parking lot behind Alkawater/Gordon's Market.
No pets or strollers permitted due to sensitive habitat and deep sandy terrain.
MacArthur Park – Bird Walk

@ MacArthur Park
May 4 @ 9:00 am – 10:00 am
Backyard Birding with Native Plants with Steve Gerischer

@ Theodore Payne Foundation
May 4 @ 10:00 am – 12:00 pm
Stocker Trailhead/ Norman O. Houston Park

@ Stocker Corridor Trail Head/Norman O. Houston Park
May 4 @ 10:00 am – 12:00 pm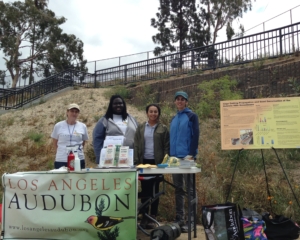 Los Angeles Audubon bird walk and info table. Norman O. Houston Park is part of the new Park to Playa Trail. Located between Kenneth Hahn State Recreation Area and the County of Los Angeles' Rueben Ingold Park, Norman O. Houston Park Trails provides some alternative routes for trail users to modify the length of their outing.
From the 405 southbound, take the Jefferson Boulevard exit and continue east and turn right onto West Slauson Avenue.
From the 405 northbound, take the Jefferson Boulevard exit east and turn right on West Slauson Avenue. Turn left on La Cienega Boulevard, then right on Stocker Street, followed by a left onto La Brea Avenue. Parking is available at Norman O. Houston Park.
Bird LA Day – Wildlife Waystation

@ Wildlife Waystation
May 4 @ 1:00 pm – 3:00 pm

Wildlife Waystation is joining dozens of organizations across the city to celebrate Bird LA Day on May 4. Expert members of Wildlife Waystation's Bird Team will have raptors on the hand for you to meet:
-Soot- A red-tailed hawk who was burned as a chick
-Barnee – A barn owl who was rescured with an injured wing
-Tumbleweed – A great horned owl, who suffered multiple injuries, including a broken leg, dislocated shoulder, and left wing damage
-Hatari – A golden eagle who had her left wing amputated after a probable gunshot or power-line injury.
Our collection of exotics include cockatoos, macaws, parrots and eclectus birds. (They'll be chatting with you too!)
The event is free and open to everyone 18 years and older.
South LA Wetlands Park

@ South LA Wetlands Park
May 4 @ 5:00 pm – 5:45 pm