When:
2019-05-04T00:00:00-07:00
2019-05-05T00:00:00-07:00
Where:
International Bird Rescue
3601 S Gaffey Street
San Pedro
CA 90731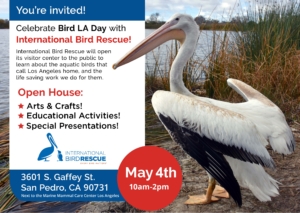 Join International Bird Rescue for a special event celebrating the birds that call Los Angeles home!
We will have crafts, special presentations, a gift shop, and educational booths where you can learn more about the waterbirds that we care for and how you can take action to protect them.
Date/time: Saturday, May 4 2019, 10 am – 2 pm, 5 – 7:30 pm
Location: International Bird Rescue, 3601 South Gaffey Street, San Pedro, CA 90731
A special wildlife watching evening sail is being offered by our friends at Lami Topsail from 5:00 – 7:30 pm with special discounts for Bird LA Day guests. Find more information and book tickets at lamitopsail.org/events or by calling 310.833.6055
We are excited to partner with our friends Wild Birds Unlimited, Palos Verdes Peninsula Land Conservancy, Tree Care for Birds and Other Wildlife, Ánimo Leadership Charter High School, Angels Gate Cultural Center, 5 Gyres, Cabrillo Marine Aquarium and the El Dorado Nature Center for this year's event.