With so many events taking place throughout Los Angeles County, there's something for everyone!
May
4
Sat
Bird LA Day at Rancho Santa Ana Botanic Garden

@ Rancho Santa Ana Botanic Garden
Bird LA Day at the Audubon Center at Debs Park!

@ Audubon Center at Debs Park
Come help us celebrate birds and the beauty of biodiversity in Los Angeles! Did you know that Los Angeles is one of the "birdiest" cities in the country?! Well it's true! Each year, LA is home to over 400 resident and migratory bird species!
Bird LA Day is a city-wide celebration of birds and urban nature held every May. This year's festival is bound to excite! Bird LA Day at the Audubon Center at Debs Park is FREE and will have a little something for everyone: bird watching, native plant nursery tour, food, nature art and activities, puppet show, live Birds of Prey show, raffle and prizes!
8:00 AM – 12:00 PM: Early Bird Count
10:00 AM – 12:00 PM: Bird Hats w/ the Arroyo Arts Collective
1:00 PM: LIVE Birds of Prey Show w/ Nature of Wild Works
2:00 PM: Puppet Show w/ the Teatro Arroyo
3:00 PM: 10,000 Birds by John Luther Adams w/ Synchromy
WE HAVE ACTIVITIES ALL DAY INCLUDING:
-Nature Arts & Crafts with Girls Today Women Tomorrow and The Nature School LA
-Screenprinting with Self Help Graphics
-Native Plant Tours with NPS
Refreshments available so come get some good food and good birding in!
Get the whole flock together for a day of fun and celebration, all in the name of our feathered friends! This event is going to be a HOOT!
__________________________________________________
Parking in the lot is limited- if lot is full, please park along Griffin Ave and enjoy a beautiful walk through the chaparral along the driveway up to the center!
We do not allow dogs in or around the center- thank you for your cooperation. Within the center's 17 acres of protected wildlife habitat, there are many delicate habitat restoration zones and many nesting bird species. Dogs leave a predator scent wherever they explore, and that can pose a huge threat to nesting birds who may flush or abandon active nests. Leashed dogs are welcomed on many of the parks other hiking trails- Thank you for understanding!
Morning Bird walk with Pasadena Audubon

@ Peck Road Water Conservation Park
May 4 @ 7:30 am – 10:30 am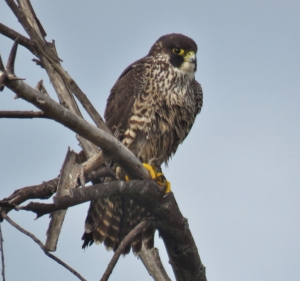 Join Pasadena Audubon for our monthly walk at Peck Road Park. Peck boasts a high species count with over 250 species seen over the years. This is due to its combination of lake, landscaped park, riparian and weedy habitats. Meet in the main parking lot off Peck Road. Bring binoculars and scopes if you have them.
Bird LA Day at Moore Lab of Zoology: Bird Walk & Mini Exhibit

@ Occidental College's FEAST Student Garden
May 4 @ 8:00 am – 12:00 pm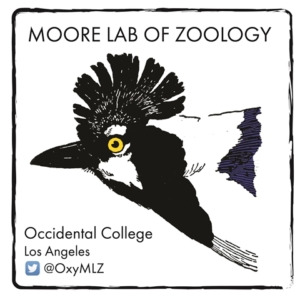 Come celebrate the 6th Annual Bird LA Day with the Moore Lab of Zoology!
Take a guided morning bird walk with us through Occidental College, join us for a coffee date afterwards to take a closer look at some of the bird specimens from our unique museum collection, and dive into a virtual reality demo. All ages welcome at this free, fun, and family-friendly annual event where we gather to celebrate the birds and biodiversity of Los Angeles!
Campus Bird Walk: 8 – 10 AM
Mini Exhibit & Coffee Social: 10:00 AM – 12 PM
Find us on eventbrite for more details and to RSVP for this free event. Hope to see you there!
Bird LA Day with Natural History Museum @ Hansen Dam

@ Hansen Dam
May 4 @ 8:00 am – 11:00 am
The Hansen Dam basin, along the Tujunga Creek tributary of the Los Angeles River, is one of the "birdiest" spots in the Los Angeles Region – nearly 290 species of birds have been found there. On our walk we'll explore willow forests, scrublands, wetlands and landscaped park areas at the peak of spring migration. The lakes will be full and the area will be lush with vegetation after the winter's ample rains.
Museum ornithologists Kimball Garrett and Allison Shultz will lead the bird walk. If you have binoculars, please bring them, but we'll have a spotting scope for close-up views of cooperative birds, and we will bring a few binoculars to lend.
TIME
Our walk will begin at 8:00 a.m.; plan to arrive at least 15 minutes early. We should wrap up by 11:00 a.m.
MEETING LOCATION
Meet at the Hansen Dam Recreation Center parking lot off Foothill Blvd. at the Osborne St. exit of the 210 (Foothill) Freeway. GPS coordinates: 34° 16' 23.78" N -118° 23' 01.01" W
DRIVING DIRECTIONS
From the 210 (Foothill) Freeway (east- or west-bound) exit at Osborne St./Lake View Terrace. Turn west on Foothill Blvd. and go a short 0.2 miles to the Hansen Dam Recreation Center parking lot entrance on the left.
From the I-5 (Golden State) Freeway, exit at Osborne St. Turn north and go 2.6 miles to Foothill Blvd. Turn east (right) on Foothill Blvd. and go 0.6 miles to the entrance to the Hansen Dam Recreation Center parking lot on the right.
We'll meet at the paved parking lot on the right as you enter. Restrooms are available here.
IMPORTANT: There is a separate set of parking areas on the west side of Hansen Dam Recreation Center at the Dronfield Ave. entrance off Osborne St. Those areas include the Ranger Station and the Aquatic Center. We are NOT meeting there, so please follow the driving directions above.
PUBLIC TRANSPORTATION
Hansen Dam is served by Metro Bus Line 90.
DESCRIPTION OF THE WALK
We'll cover about a mile on easy and mostly level dirt paths, stopping frequently to look and listen for birds. Target species include a variety of warblers, flycatchers, and other spring passage migrants as well as breeding birds of the extensive riparian woodlands and adjacent scrub, including the endangered (Least) Bell's Vireo as well as Yellow-breasted Chat, Blue Grosbeak, Yellow Warbler, Lawrence's Goldfinch, etc. Waterfowl, herons and other waterbirds will be around the lake, and swifts and swallows should be overhead. A typical spring bird walk in this area should yield 60 or more bird species.
Bird Walks for Beginners – Loaner binoculars provided

@ Eaton Canyon Nature Center
May 4 @ 8:00 am – 11:30 am
Early Bird Count at the Audubon Center at Debs Park

@ Audubon Center at Debs Park
May 4 @ 8:00 am – 12:00 pm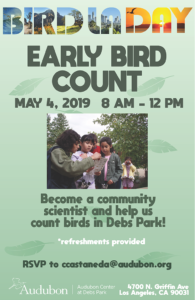 Join Audubon staff and trained birders for a community science project to count as many bird species as we can at Debs Park!
We'll start the morning off with some coffee and snacks, then we're off to the trails! Groups will be lead on our trails throughout Debs Park for a fun opportunity to learn about our different native species and compete to count the most birds throughout the park!
Binoculars, guides, and count sheets will be provided just bring your flock!
After the count, stay for our Bird LA Day festivities at the Center!
EMAIL CCASTANEDA@AUDUBON.ORG TO RSVP!
Hawks and Coffee

@ The Alcove
May 4 @ 2:00 pm – 4:00 pm